Join The Green Beauty Club and get rewarded while you shop.
You'll get 70 points for signing up. What are you waiting for?
Sign up / Log in
Welcome to The Green Beauty Club
Join our Green Beauty Club to enjoy access to exclusive perks and discounts.
You will earn points as you shop and these points can be turned into vouchers to use against your next Green People order or donate to one of our amazing charities.


If that wasn't enough, being part of our Green Beauty Club gives you access to exclusive perks such as free delivery weekends, the opportunity to test new products and you'll always see our best offers first.


Join today or login to your account to start earning points!

Sign up for an account

Earn points as you shop
Save up and turn points into vouchers or donate to charity
We've made earning points simple, you get 1 point for every £1 you spend at Green People (or 2 points per £1 as a VIP!).
There are also lots of additional ways to earn as listed below.
Here you can find all of your claimed rewards.
Click the desired reward to copy your unique voucher code and redeem it at checkout.
Once you've collected 100 or more points you can start redeeming rewards!
Gift vouchers can be redeemed and used against your next Green People order. Or why not give back and donate to one of our amazing charity partners?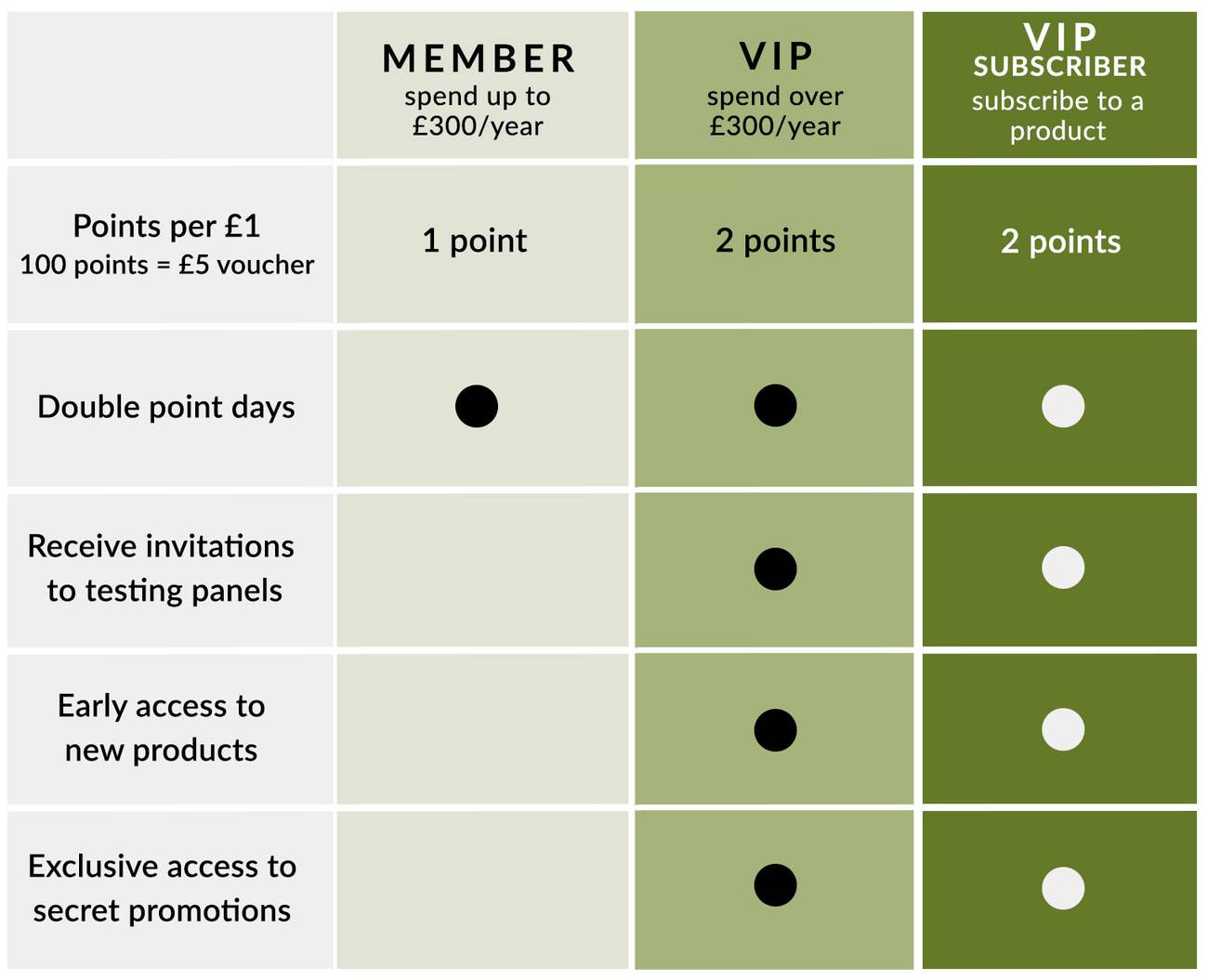 Frequently Asked Questions
How do I start earning Green Points?
Simply create an account or log in to your existing account. You'll then automatically earn points when you shop online and when you take other actions, such as following us on Facebook.

How many Green Points do I need to claim a voucher?
Once you reach 100 points you can claim a £5 gift card or make a donation to charity. Simply log in and select "claim rewards" to see if you have any rewards available.
How many Green Points do I have?
You can check your points balance by signing in to your account. You will receive any pending points 28 days after placing an order.

How do I turn Green Points into gift cards?
To see the rewards available to you, log in to your account and click "claim rewards". You can then select the reward you would like and copy your unique gift card number. Enter this gift card number at the checkout to redeem your discount. Sign in now.
Do I earn Green Points if I check out without signing in?
Sorry, we can't assign points to you if you don't sign in to a Green People account. It only takes 2 minutes to create an account, and it will mean you can check out faster in future. Create an account now.
Do Green Points and gift vouchers expire?
As long as you have made a purchase within the last 12 months, your points will remain active. Green Points expire after 12 months of inactivity.
Any claimed gift voucher is valid for 12 months from the point that you redeemed the voucher.
Where can I find my gift card?
If you have already claimed your gift card but have not spent it you can find all your previously claimed rewards under the 'Your Vouchers' tab on the Green Beauty Club Page. You must be logged in to your Green People acount to view your vouchers. Click here to access.
How do I use my Gift Voucher on a subscription order?
Subscription Discounts can be used on existing subscriptions only and can be added within your account under 'manage my subscriptions'. The discount will be applied to your next upcoming subscription order.
Why are my points pending?
Points are pending for 28 days after placing your order. This allows time for refunds or returns.